Are you ready for Mendoza's Wine Experience?
Three exciting days in Easter'2014 in Alfas del Pi, Alicante (Between Benidorm & Altea)
Three exciting days
17, 18 & 19th APRIL/ FROM 9.30 AM TO 4 PM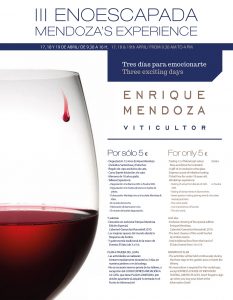 For only 5 €
· Tasting 12 of Mendoza's wines (Santa Rosa and Estrecho included).
· A gift of an exclusive wine glass.
· Express course of initiation tasting.
· Ticket Free for under 18 years old.
· Workshop experience:
– Tasting of wines from Barrels of 225l. vs Foudre 500l.
– Tasting of Sandy wines vs Stone wines.
– Sweet passion: tasting pairing wine & chocolate, Mendoza & Valor.
– The cork's world.
– Live manufacture of barrels.
– The oil's world.
And also:
· Exclusive viewing of the special edition Enrique Mendoza, Cabernet-Garnacha-Monastrell, 2010.
· The best cheeses of the world hosted by Andrés García.
· And traditional food from the hand of El Xato Events (from 3 to 5 €)
RAINPROOF PLAN
· The activities will be held continuously during the three days in the garden area or inside the Winery.
· No reservation is required for the workshops, except EXPRESS COURSE OF INITIATION TASTING, LIMITED PLACES.
Don't forget to sign up when you buy your ticket at the Information Desk!
For further information, visit the winery website -> www.bodegasmendoza.com