Cava is a sparkling wine of Denominación de Origen (DO) status, most of which is produced in Catalonia, in the provinces of Barcelona or Tarragona.
It is usually white (blanco) or rosé (rosado). Macabeu, parellada and xarel•lo are the most popular and traditional grape varieties used in the production of Cava.
These sparkling wines can only be labeled as "Cava" if they are produced using the méthode champenoise, that is, the champenoise traditional method.
About 95% of all Cava is produced in the Penedès area in Catalonia, with the village of Sant Sadurní d'Anoia being home to many of Spain's largest production estates. The two major producers are Codorníu and Freixenet.
Other regions (provinces) of Spain which are now producing Cava are La Rioja , Lleida , Girona , Álava , Zaragoza , Navarra , Badajoz y Valencia.
The Catalan word cava means "cave", or "cellar". Caves were used in the early days of Cava production for the preservation or aging of wine. Catalan winemakers officially adopted the term in 1970 to distinguish their product from French champagne.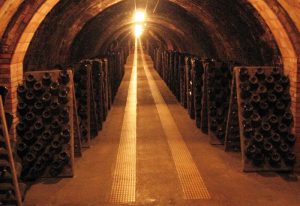 In the past, Cava was referred to as "Spanish champagne", which is no longer permitted under European Union law, since Champagne has Protected Geographical Status (PGS) and Spain entered the EU in 1986.
Colloquially it is still called champán or champaña in Spanish or xampany in Catalan.
Cava is an important part of Catalan and Spanish family tradition and is often consumed at celebrations like baptisms, marriages, banquets, dinners and parties.
The main types of Cava, depending on the quantity of sugar they contain, are: Brut Nature , Extra Brut , Brut, Extra Seco , Seco , Semiseco, Dulce (Sweet).
The only ones without extra sugar added are Brut Nature & Extra Brut. This makes them much more difficult to produce, so they are usually more expensive, and maybe tastier!
Cheers! Salut! ¡Chin-Chin!
Sources: Cava (Spanish wine) – Wikipedia(EN) // Cava – Wikipedia(ES)