On June 9th, the 8th annual Winecanting Summer Festival was held in the Archaeological Museum of Alicante (MARQ – Museo Arqueológico Provincial de Alicante).
This Wine Festival held just before the start of summer in Spain, intends to show you that there are also great Spanish wines in Alicante, not just in the very well-known areas of Spain such as La Rioja, Ribera del Duero or Jerez.
The party began at 8:30 p.m. and just for 5 € you had 3 glasses of wine.
It was very difficult to choose which wines to taste among the 28 winery stands!
We really enjoyed the night, tasting up to 10 wines each. Fortunately, we had a 15-minute walk to our hotel.
Imagine driving afterwards? LOL 🙂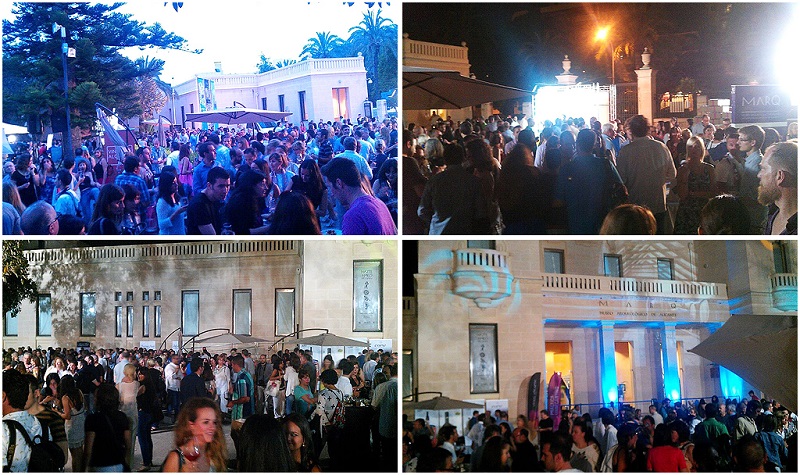 As the experts suggested, we started with the white wines : "Bahía de Denia" (Bodegas Xaló), "Fruto Noble" (Bodegas Francisco Gómez) and the super-popular "Marina Alta" (Bodegas Bocopa) which had lots of people queuing up at their stand.
Very tasty and cool was the rose wine "Cesilia Rosé" (Bodegas Heretat de Cesilia)
Impressive red wines, "Santa Rosa" (Bodegas Mendoza), "Peña Cadiella Selección" (Vins del Comtat) or Sequé (Artadi).
We ended up tasting some special ones like the Sweet White "Casta Diva" (Bodegas Gutierrez de la Vega), the sweet liqueur white wine – Mistela– (Bodegas Xaló) or the historic Fondillón (Primitivo Quiles)
While drinking and having fun, we also ate homemade potato chips (Hola Patatitas), a table of cheese (La Despensa de Andrés) and some tapas (Tukatering)
To sum up in one phrase:
Enjoy the Mediterranean way of life in Alicante!
Or as the organization says: "If you Smile… It's #Winecanting!"
We have a great souvenir from the event: the Wine Glass! 🙂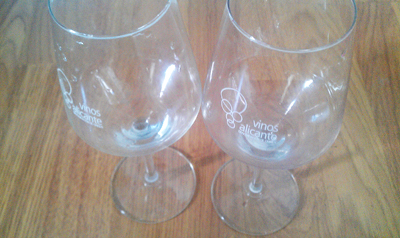 Do you like Alicante wines?
Which ones?