Next Monday, on June 9th, the VIII annual Summer Festival Winecanting 2014 will be held in the Archaeological Museum of Alicante (MARQ – Museo Arqueológico Provincial de Alicante).
As in the past years, this Wine Festival will be a Grand Fiesta of the DO Alicante (Alicante Wine Region) with the most important wineries of Alicante serving their wines to everyone.
The party begins at 8:30 p.m. (6 p.m. for professionals), and just for 5 € you can have 3 glasses of wine (included in the price). You can also take your "Vinos de Alicante" wine glass home! (It's also included in the price!)
Tickets are on sale at the entrance, or you can buy them before at DOP Alicante Offices located at c/Monjas 6 (from 8 a.m.-3:30p.m.) in Alicante.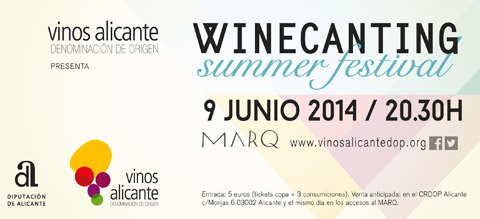 Want something to eat?
Food will be provided by some of the most popular catering companies in Alicante, such as Embutidos de Pinoso, Hola Patatitas, La Despensa de Andrés and Tu Catering.
Popular prices!
Come and have fun at the most well-known wine-party in Alicante and enjoy the Mediterranean way of life!
If you Smile… It's #Winecanting!