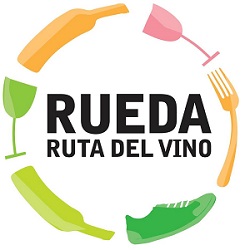 Rueda Wine Route -within Rueda Designation of Origin- is located in the heart of Castilla y León, and extends across the left bank of the Duero River.
This route includes mainly part of the province of Valladolid and also a little part of Ávila and Segovia, and currently comprises of 13 towns which offer guided tourism in the historic wealth of this viticulture region par excellence. The particular weather conditions and the orographical characteristics of its "terroir" make this area more than favourable for wine cultivation –specially for the native grape called "Verdejo"-, which gives a unique and inimitable personality to all its wines.
Its viticulture origins date from the 11th century, and from then until now, grapevine care and wine production have provided a culture and a tradition to this area. Both are reflected in all the aspects of its personality, from its people to its artistic manifestations, not to mention its gastronomy, which also plays an important role.
It is an essential trip for those people who want to explore new emotions, always focused on wine and its environment.
The Wine
Rueda, Verdejo birthplace since 11th century.
The landscapes of Castilla y León which are characterized by their green fields and pine woods, enhance the Rueda Wine Route, and give priority to vineyards linked to the Designation of Origin Rueda.
After years of hard work in the care and the protection of the Verdejo grape, the D.O. Rueda was founded in 1980, being the first Designation of Origin of Castilla y León to receive this recognition. Since then, white wines of Rueda have obtained a significant and unique international fame.
Traditionally, young wines have been made. These are differentiated by their peculiar greenish yellow colour and their fruity, elegant and fresh aroma and flavour. However, in recent years, some wineries have opted for barrel fermentation, -which provides premium wines of intense sensations-, as well as sparkling wines.
Although Verdejo is the native variety, in the D.O. Rueda we can find other varieties of white wines, such as the Sauvignon Blanc, Viura or Palomino Fino and since 2008, varieties which allow red and rosé wines to be produced.
Resources
For all kinds of people, and tastes.
Rueda Wine Route encompasses 14 wineries, where you will find, on the one hand traditional wineries, characterized by their underground galleries. These galleries, are still intact since the Middle Ages. On the other hand there are modern wineries, leaders in innovation and development, offering a tour through the wine culture from ancient times to the present day.
In our specialized establishments, collections of wines, hotels and restaurants, you will receive an impeccable service which provides care to visitors. You can relax with wine therapy in a spa, or sweeten your stay with our traditional pastry. Get swept up in the charm of our towns and enjoy a quiet walk through their streets, admiring their traditional architecture and feeling the friendliness of their people.
Heritage
A great history, an extensive legacy.
History has left a significant patrimonial legacy in Rueda Wine Route. We can find traces of various civilizations, such as old Mudéjar and Renaissance and Baroque temples, convents and monasteries –that host wonderful treasures- or Fortress-Castles such as La Mota Castle in Medina del Campo, which recall the thousands of battles waged in these lands of Castilla y León and the great and decisive political and economic importance of this territory in earlier times, especially during the reign of Isabel la Católica.
Festivals
Important and varied events all the year round.
Enjoy the celebrations of all the different places that are part of Rueda Wine Route. Some of the key dates that you cannot miss are: the Wine Harvest Festivities of Rueda, La Seca or Serrada, Medieval Market of Tordesillas, and Easter in Medina del Campo, declared of International Tourist Interest.
Gastronomy
From the most traditional to the most innovative cuisine.
The secrets of our grandmothers' cooking, prepared with love, have continued until the present day in a renewed way. Tradition and innovation are blended to make the best of premium raw ingredients. Taste the roast lamb with Protected Geographical Indication (PGI) or the sucking pig, both roasted in a wood stove, the lentils of La Armuña, the chickpeas of Fuentesaúco or the mushrooms and fungi which Autumn rewards us.
You are invited to taste the selected natural and tasty cheeses made using cow's milk, the curds and the cottage cheeses. Traditional pastry will sweeten your journey.
Activities
Meet the world of wine and its environment.
Rueda Wine Route offers visitors the opportunity to get involved in the wonderful wine culture, taking part in related activities, such as guided tours to wineries and vineyards or tasting visits, and much more.
In addition, you can make a trip to the past, enjoying the great cultural heritage that this region provides. You can even follow the same itinerary that Isabel la Católica and Juana "la Loca" made hundreds of years before.
Rueda Wine Route will not fail to surprise you.
How to get there
In the heart of Castilla
The A-6 and A-62 cross the D.O. Rueda, and its main towns, Tordesillas and Medina del Campo, connecting perfectly with the rest of Spain, and also with France and Portugal. In addition, there are several national, regional, provincial and local roads, linking a large number of towns.
Moreover, Rueda Wine Route has a wide network of railways, Medina del Campo being one of the main stations. It also has several lines of AVE from Valladolid, less than an hour away.
Rueda Wine Route is also well connected by air, nationally with Villanubla airport in Valladolid, in 20 minutes, and internationally with Barajas airport, in just over an hour.

SOURCE OF SOME IMAGES AND TEXTS:
wineroutesofspain.com
Emina Winery