History and Culture
The Ribera del Duero is a natural region with small hills and fertile meadows following the course of a calm and serene river, the Duero. Alandscape of changing colours carpeted with a varying fabric of vineyards and hills. Here in this far corner of the Duero basin is a miraculous combination of perfect environmental conditions for the production of a subtle wine full of aromas.
Ribera del Duero is a fairly young Designation of Origin, but in its scant 30 years of life as a D.O. it has grown to become a reference for quality wines in Spain. Praised and recognised by experts, it now occupies a place of honour in the world wine market.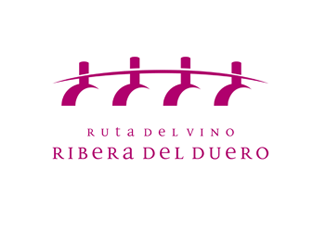 The Wine
The Ribera del Duero Wine Route runs over the northern plain, where Burgos, Segovia, Soria and Valladolid accompany it on its way along the River Duero, a corridor linking over 100 towns along its 115 km wine-growing fringe.
ime and the bounty of nature have given the whole area an exceptional soil for the cultivation of vines. A climate marked by contrasts that alter the normal course of the vineyards, giving them a character and strength that makes them unique.
Rosé wines, young reds, Crianzas, Reservas and Gran Reservas. All with a common denominator: the Tempranillo grape, native to the Ribera del Duero, which brings the colour, aroma and body which make our wines unrepeatable. Along with Tempranillo, the Regulatory Council allows other varieties: reds like Cabernet-Sauvignon, Merlot, Malbec and Grenache Rouge, or the only authorised white, Albillo. Six varieties of grape for an exceptional and unmistakable flavour that marks the quality in every bottle.
In La Ribera there's a wine for everyone and every occasion. The more than 900 brands that bear the Ribera del Duero seal are the living image of the 8,000 wine growers and over 270 wineries dedicated in body and soul to growing vines. An effort rewarded when they open a bottle to make you a toast.
Resources
Age-old underground wineries, forts like Peñafiel Castle, the site of the Provincial Wine Museum, and the Monastery of Saint Mary of Valbuena, the birthplace of our wines.
This territory has some impressive monuments, including examples of Romanesque art in Soria, mediaeval villages like Peñaranda de Duero and Gumiel de Izán, and a fine selection of museums and interpretation centres.
But it is its underground wineries, buried in the subsoil of its villages, that are of greatest interest. Tunnels dug 12 metres down that offer the right conditions for producing wine. They are now open to tourists all year round and the setting for many local festivals. Also noteworthy are the recently built avant-garde wineries that bring together craft, tradition and modernity in Ribera del Duero.
Heritage
Crossing of ways in a land with a great artistic and ethnographic heritage.
Ribera del Duero is not just great in size, it is also great in its historical and artistic heritage. From times immemorial, Castilla y León has been a crossing of ways and place of residence for the most influential governors of the Iberian Peninsula. Strolling through its streets is like walking back through history.
Churches like Saint Mary the Royal, monasteries like Our Lady of the Vine and Saint Mary of Valbuena, excollegiate churches like that of the Assumption in Roa and Saint Anne in Peñaranda de Duero, castles, towers and Arab watchtowers, the Romanesque art near Soria and archaeological sites of Celtiberians and Romans are just some examples of the many gems be found in this area. Then there's the wine, heritage of all Ribereños, which conserves its origins in the traditional presses and wineries and its old network of tunnels that take you on a magical journey through time.
Gastronomy
Home of the suckling pig, morcilla sausage, chuletillas (chops), "sopa castellana" garlic soup and "empiñonados" (pastries) with pine-nuts.
Top quality raw materials, fresh produce and the master's touch of the area's chefs will be sure to delight any visitor. One of the stars dishes is undoubtedly suckling pig or "lechazo". Roasted at 180º C in clay ovens heated with holm-oak wood, the dish is based equally on the quality of the product and the skill of the master griller. The result is a delicate pink juicy meat. A product that is 100% natural, low in fat and full of flavour.
Top that up with delicious sausages like morcilla or chorizo, cheese, mushrooms, garlic soup or lamb chops, as well as other meats like partridge, hare, rabbit or quail, and you have a culinary repertoire that's hard to beat. Then pastries like "empiñonados", "hojaldres" and "yemas" add the sweet note at the end of the meal.
Activities
A combination of culture, cuisine, heritage, nature and craft.
Enjoying wine is only the start. In Ribera del Duero you'll fine culture, cuisine, heritage, nature, craft and so much more. From a tasting in a winery to the visit to a museum, food tastings, strolls among vineyards and health and beauty treatments using vinotherapy. There's a Ribera del Duero for everyone.
Festivals
A cultural calendar that covers the festivals of 82 municipalities.
The 82 municipalities of Ribera del Duero offer a full calendar of festivals for all tastes. There is the Patron Saint's Day of Our Lady of the Vineyards, the Feasts of Saint Roque and the Assumption in Peñafiel and Roa, the Harvest Festival, mediaeval markets and the Sonorama-Ribera music festival, held in Aranda de Duero, also La Francesada in Hontoria de Valdearados and Easter Week in general, particularly the celebrations of the Descent of the Angel.
SOURCE: Wine Routes of Spain – Ribera del Duero
Other links to the Rioja Alta Wine Route:
www: http://www.rutadelvinoriberadelduero.es/ingles/inicio.html
Twitter: https://twitter.com/RutaVinoRibera
Facebook: https://www.facebook.com/rutadelvinoriberadelduero
Pinterest: http://pinterest.com/rutavinoribera/