The Penedès Wine Region has always lots of activities related to Wine Tourism.
Let's see a few of them specially designed to celebrate the 'European Day of  #Enotourism' this weekend.
The wine essence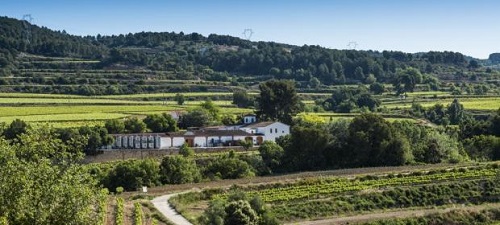 Let you be attracted by the charming wine world of Eudald Massana Noya's winery.
Enjoy a guided tour in the vineyards, during which you will discover organic and biodynamic agriculture, and the history of the winery as well. The tour includes a visit to the winery where you will learn step by step the wine and cava making process. At the end of the tour, you can taste two of their wines and cava, in which you will discover their different aromas and flavours.
You will be given a cava bottle as a present to the families that visit us!
Where: Sant Pau d'Ordal (Subirats) at Eudald Massana Noya's winery
What: Wine-tastingGuided tastingWine and Cava tastingGuided tour
Tags: Familiar, groups or couples.
Duration: 1 hour.
Experiences at Cellars and Wineries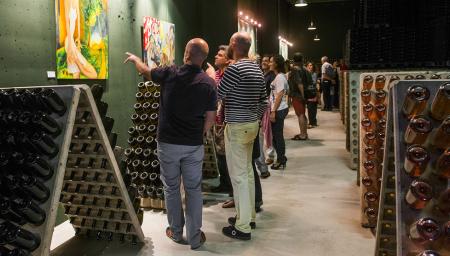 Lots of wine plans such as:
Organic and oenological getaway
Introduction to wine tasting
Discover the origin of the vineyard in Catalonia + Cava tasting
Jean Leon: Guided tour and single vineyard Wines tasting
Vintage Getaway 2014 Cava & Hotel Mastinell
Live the Harvest
and much more!!
Family business: the bubble of cava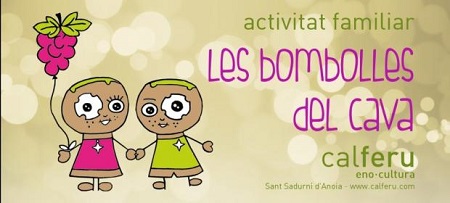 Tasting cava for parents and eno • activity for children in the house.
To celebrate the year of family tourism, we present a new activity aimed at families.
How to create bubbles of Cava? What information is found on the label? Which senses involved in taste?
Adults, through a tasting of champagnes and children through games and experiments, get the answers to these questions and many more.
The tasting will be 4 Cava of different wineries , Xavier Roig Sommelier Cal Feru and finalist in the "Best Sommelier of Spain 2013 Cava"
The children's activity is for children aged 4 to 10 years.
When: Saturday November 8, 2014 at 12 pm
Places: 16 persons
Lasting : 1 hour
How much : 10 € per person. Includes t-shirt for children.
Special promotion, 2X1 in children.
Where : Tasting Room in La Cal Feru (Sant Sadurní d'Anoia, Penedès, Catalonia, Spain)
Information on the phone 93 891 01 63, or calferu@calferu.com
Ask for the personally availability for other dates.
MOST – Penedès Wine & Cava Film Festival


Most Festival is an annual event that aims to showcase the best international audiovisual work linked to viniculture, wine and cava. At the same time, the festival aims to make a toast for good cinema by projecting unreleased films by great authors.
Held in the Penedès, a zone very close to Barcelona (Spain) with a long winemaking tradition and several wine-related tourist attractions, the festival wants to promote viniculture and arts linked to wine and cava through audiovisual works and also explore all aspects of winemaking, especially values such as quality, diversity, wine tourism and ties to the region.
From the 6th to the 16th November 2014, the Penedès region will celebrate the fourth edition of the festival with a broad number of different film-related and enoturistic activities for all publics. Most Festival will be also the main event held in the Penedès to celebrate European Wine Tourism Day (9th November).