It's April, and this region of Spain and its surrounding areas are perfect to enjoy your Easter Holidays near the beach with stunning sunny weather and with some complementary events such as the "Wine Escape" offered by Mendoza Winery, in L'Alfas del Pi (Alicante).
Three exciting days with lots of wine-related activities such as tastings & workshops that anyone who likes wine can enjoy.
You don't have to be a wine expert! It's just fun and #Enotourism! 🙂
The winery opens its doors at 9:30a.m. and after purchasing the tickets (5 € each) you receive your wine glass for your tastings. It's a present you can take as a Souvenir if you want.
Once in, the first thing you can see is a live manufacture of barrels. A barrel-maker hammering smoked casks of wood showing how the barrels are made.
Interesting experience.
After that, we wanted to begin tasting wine (of course) so we took part in the "Tasting Express Workshop" to learn how to taste wine in a "more correct" way.
A very easy and entertaining way to understand why wine experts insert their noses and make the wine dance inside the glass before tasting it.
For the practice we tasted "Petit Verdot 2012" (15 months in barrel): we looked at it, we smelt it, and finally we tasted it.
As we are not professionals we did not spit it out… Of course we didn't!
We tasted the following wines :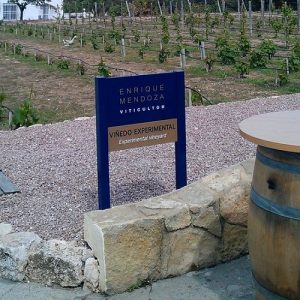 Young White Chardonnay 2013
 Merlot Monastrell – 2010
 Pinot Noir 2011
 Cabernet – Monastrell 2010
Viñedos Mágicos (Magic Vineyards)
 Santa Rosa
 Estrecho
(Click here to know more about these Wines)
Before tasting them all and having reached this point of the day, we noticed we needed something to eat.
We had a cheeseboard (served by La Despensa de Andrés) and some "tapas" and some "paella" to pair with some of the wines. Excellent food served by " Xato Restaurant" (very well known restaurant in La Nucía). Prices from 3 € to 5 €.
From wine to wine we did lots of activities: Olive Oil tasting workshop ("Gold Liquid"), Wine Cork Workshop (by Ebrocork), Tasting of Sandy Wines vs Stone Wines (different flavours depending on the terroir), Tasting of wines from Barrels 225l. vs Foudre 500l.
After 3-4 intense hours, the final sweet surprise: "Sweet Passion: Tasting and pairing wine & Chocolate; Mendoza Wines & Chocolates Valor".
"Chocolates Valor" is a very well known chocolate trademark in Spain manufactured in the nearby village of Villajoyosa. They have created together a delicatessen series of chocolates, mixing Mendoza's wines with their best chocolates.
What about your experience?
Have you visited this Winery or this Wine Region?
SOURCE: Raquel López, deVacacionesyPuentes.com (Spanish)
PLUS!
Watch this video: Pepe Mendoza, one of the Winery owners explains everything about this Wine Experience: